Wondering how to get your home life under control?
Creating simple systems can do wonders for easing the stress of home management. A system doesn't have to be a complicated process with tons of steps. I think a system can be as simple as having a schedule or routine that you try to stick to that makes thing easier to remember and helps keep your home in order.
There are a few systems that would be a great place to start – meal planning, cleaning schedule, paperwork, and finances. Here is how to get started creating these systems and some tools to help.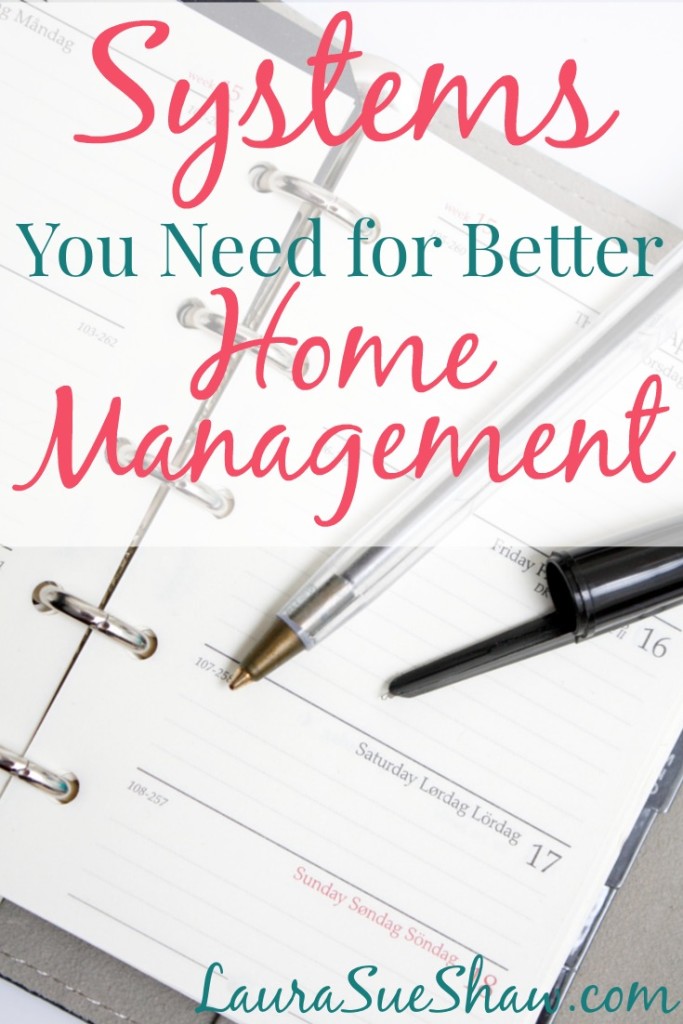 Cleaning Schedule
Keeping the house clean seems like a never-ending cycle, doesn't it? To make it a little less painful, I've found it helpful to make a cleaning schedule. Mine is super simple. I know I do most of my cleaning on the weekends and have a weekly cleaning list. I also know what chores need done during the rest of the week.
Here are some posts to help you get started creating your own cleaning schedule:
Meal Planning
Even just simple meal planning prevents us from eating out very often. Most weeks I don't have a plan set in stone. I have a list of what meals I'll fix in the next week based on what we already have and then what I pick up at the store. I might have an idea of what day I'll make what but unless something specific is going on, I normally play it by ear depending on what we're in the mood for from the list of options.
Here are some helpful posts to get started in menu planning:
Finances
A budget can actually relieve so much stress when it comes to finances! I absolutely love Mint.com. It's free and easy to set up. Plus, there's an app that I have on my phone that allows me to quickly look up where we're at with our budgets.
Here are some of my favorite financial posts:
Paperwork
Oh, the piles of paperwork. It is really my biggest nemesis in keeping my home in order. I have not perfected a system for us yet, but it is a work in progress.
For help getting your paperwork in order, read my Ultimate Guide to Organizing Paper.
Emails and Digital Files
Our digital lives can easily get cluttered fast! Between files, pictures, ebooks, documents, programs, apps, emails, and more, there's a lot to keep track of!
I believe one of the best ways to keep digital items decluttered and organized is through the use of folders. You can learn about my email folder system here.
Be sure to also declutter your digital files with this digital declutterathon.
Planning and Calendar
Finally, I think it's vital to have a planning system. Whether you use a classic planner, a plain notebook, or a digital system, having a process in place will make you more productive and less stressed.
The key really is to find what works for you. This process takes some trial and error and can certainly evolve over time. Last year I switched planners and started using Google Drive and Keep more. For now the system I use works well but it could easily change in the future.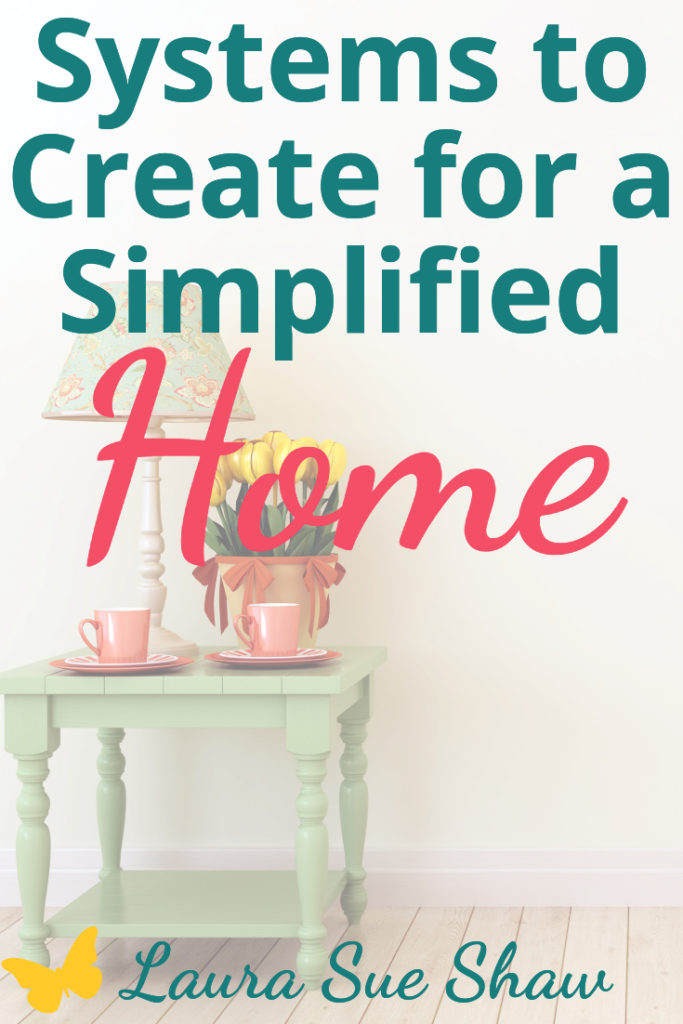 Passwords
I used to spend far too much time trying to remember my password for different websites! Now I've come up with some ways to make it a little easier to remember my passwords.
Use browser "remember me" settings (ONLY when you're on your personal computer!)

Use an app such as 1passwords or the one built into Google Chrome (what I use)

Keep a special notebook to write down passwords and usernames

Use a note application to write down usernames and passwords (But make sure it is SECURE!)

Use the same password when possible (Not the best advice for security reasons but sometimes you just have to keep it simple)
So pick one of the options above to help get your passwords organized and easier to remember.
Routines
Finally, a great way to systemize your life is to create routines. These are more flexible than a schedule, because there's not a certain time attached to it. A routine is simply an order in which you do a set of tasks.
For example, I have a morning routine that helps me accomplish what I need to each morning. I rarely get started at the exact same time every day. But going through my routine makes it much simpler to complete tasks – it quickly becomes habit and you don't have to think too much to get it done!
Here's a morning routine example based off of mine:
Change baby. While he's playing I…

Put contacts in

Let dog out and feed her

Fix my breakfast and coffee

Then feed baby

Check email

Devotion time

Start working
Sometimes it doesn't go in the exact same order, but having a simple routine set up makes it easier to get my day off to a good start.
Even the simplest of systems can help so much in making your home more manageable. I think the areas that are key are the cleaning, meal planning, finances, and paperwork. With just a few home management systems in place, things can run a lot smoother and make things less stressful and more enjoyable for everyone.
Ready to create systems to simplify and streamline your home? Join my free challenge where I'll show you how to set them up!
[activecampaign form=51]
What are your systems for home management?