Doesn't it seem like the household chores never end?
It does for me sometimes anyway. I've found that having a set cleaning schedule (with plenty of wiggle room of course) makes keeping up with the house a little bit easier. Here are some ways to create a successful cleaning schedule that works for you.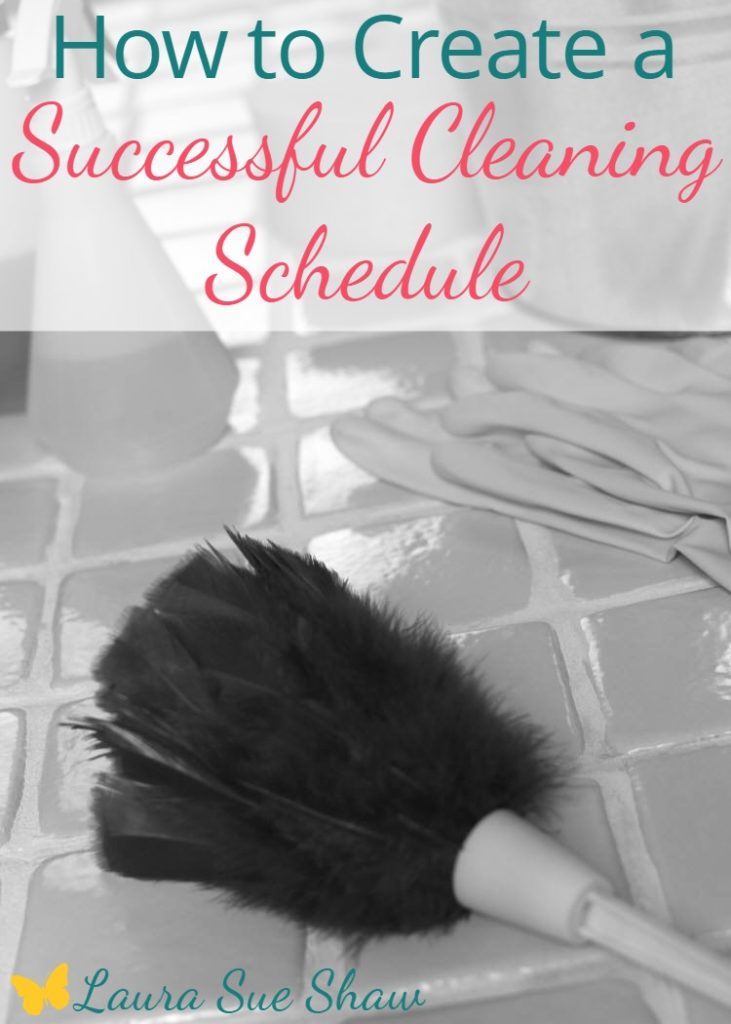 List what chores need to be done when and how often
The first step is to make a list of all the chores that need to be done at some point to keep your home clean and running smoothly. What needs to be completed daily? Weekly? Bi-weekly? Monthly? Quarterly? Yearly?
Decide what works better for you: one room at a time or one chore at a time
Personally, I prefer to clean one chore at a time. I dust the whole house, vacuum the house, etc.
But you may prefer to clean one room at a time.. It doesn't matter, do what works best for you and your family! Either way, the house still gets cleaned. 🙂
Are you going to set aside one whole day for cleaning or do one chore/room per day?
I've usually done most of the cleaning on one day during the weekend or even on a Friday night. However, I'm going to try to switch to a couple things each evening so I have more time on the weekends.
More tips to make your cleaning schedule run smoothly:
Take a basket with you to place items that need to go elsewhere. This saves you from running all over the house while cleaning.
Give each family member a list of what they're responsible for.
Minimize cleaners by mainly using one all-purpose cleaner.
If you dread cleaning, think of it as exercise- pushing the vacuum and scrubbing counter-tops burns calories!
You can get started now with this Free Printable Cleaning Schedule Planner!
How do you keep an organized cleaning schedule?