Sometimes I felt like a paper mill had exploded in our home office.
Paperwork has almost always been a huge nemesis for me. I remember how frantic I felt that time when I couldn't find a very important piece of paper. Anywhere.
After tearing apart folder after folder, emptied drawers, and it was still nowhere to be found.
I finally gave a defeated sigh and decided that this HAD to change. I wasn't going to go through this again!
What we needed was a simple system for filing and organizing paperwork in a quick, efficient way.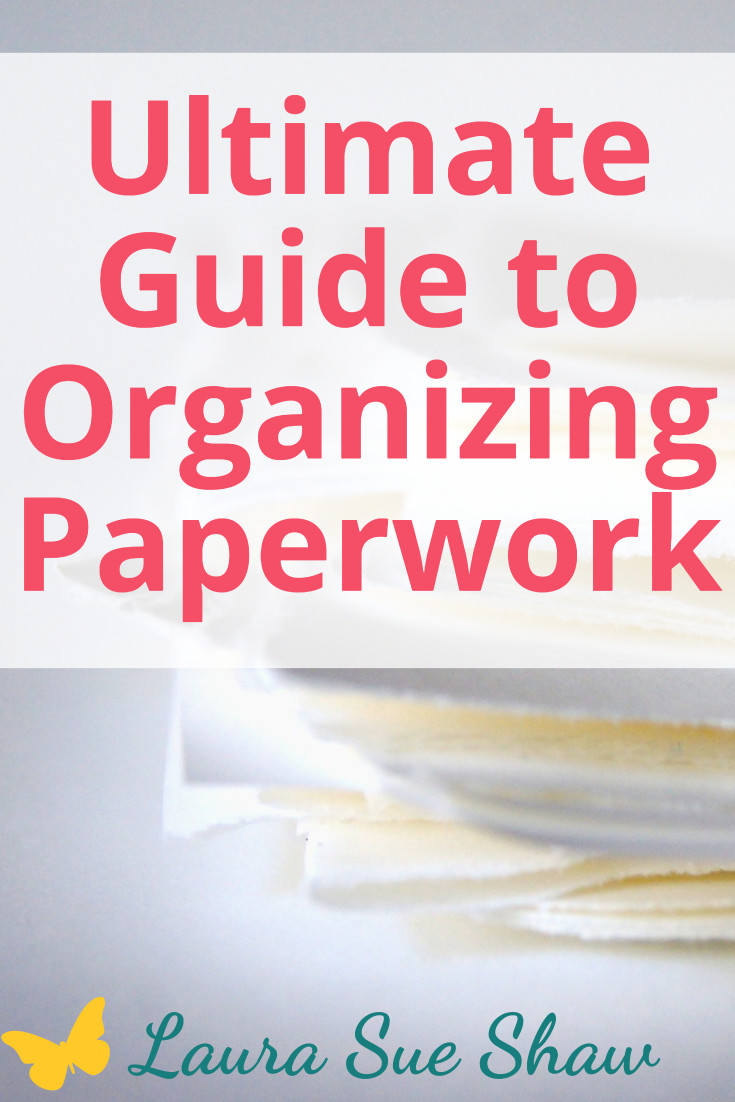 PART 1: Organizing important documents
The first step in getting your paperwork organized and de-cluttered is to gather up all the important documents and store in a safe place, preferably fireproof. It should also be pretty easy to access in case you need to use the documentation.
You could also choose to keep these items in a safe deposit box, which is also a good option. If you go that route, I'd recommend keeping copies of these at home in a fireproof box.
Some of these documents should include:
1. Social Security cards
2. Birth Certificates
3. Marriage Certificate
4. Deeds
5. Appraisals
6. Power of Attorney
7. Diplomas
8. Death Certificate
9. Military discharge papers
10. Passports
11. Life insurance policy
And pretty much anything else you need to keep safe. Granted, most of the things listed can be reissued at the appropriate facility.. but who wants to mess with that? This way all important documents are all together in one safe place.
There are definitely some other steps to get your paperwork and filing in shape, but this is an important first step. Gathering your most important information and keeping it stored in a safe place can ensure easy access at the appropriate time and can also prevent a whole lot of headache.
PART 2: Organizing handbooks and manuals
One hot summer day my husband was mowing the lawn.
Then the mower broke.
We had just bought it a few months before, so it was especially frustrating. I went to find the manual and was met with a very messy drawer filled with not only manuals, but other miscellaneous paperwork as well. As I dug through trying to find information on the mower, I realized it was time to get our manuals in some sort of order!
Right now I have all of our manuals organized into a single file folder. This works for us, but I've seen some other great ideas such as putting the manuals in page protectors and storing them in a binder.
Here are some ideas of manuals to keep on hand:
Lawnmower
Cell Phones
Large & Small Appliances
Weed eater & other yard tools
Power tools
Video Game Systems
TV
Computers
Tablets
Even if the item is really simple to use and the manual is not necessarily needed, if it has the warranty information in it, I'd consider it worth keeping.
Then when I do an annual "file audit" of my files, I go through my manual folder and recycle any manuals for items we no longer own.
Though this might be a bigger project, there's also the option of finding the manuals online and creating a digital file of them so you don't have to keep the hard copies on hand.
Whichever way you choose to organize them, having item manuals can save a lot of time and headache if something breaks.
PART 3: How long do you really need to keep files?
I'll admit it.. I can be a bit of a paper "collector".
You just never know when you might have to prove what you paid was correct. However, with all the electronic files these days I decided that if I needed a particular record it was most likely only a phone call away.
So into the shred pile went several months worth of bills.
Here's a list of how long it is recommended you keep certain papers:
Utility, Phone, Internet, etc. Bills: 1 or 2 months
Medical/Dental/Insurance Bills: 1 or 2 years (The billing can take forever!)
Tax Documents: At least 7 years
Pay Stubs: 1 year until you get your W-2 and everything is correct
Bank Statements: 7 years if you need them for tax purposes, otherwise 1 year is plenty. I get electronic statements and that certainly saves some paper clutter!
Other things that I threw out included some correspondence, papers from college, and old check stubs that I found. I've been able to condense most of our files into one drawer in our file cabinet! Now, the next challenge will be keeping the paper clutter under control.
PART 4: Stopping the paper flood – creating a system that works for you
Now onto Part 4, stopping the flood of papers that continue to clutter your home. Well, maybe not completely stop it, but I have some suggestions for slowing it down to small drip.
Open the mail by your recycle and shred bins. This way you can immediately toss what you don't need.
Unsubscribe from junk mail. Set aside some time to call and get your name off some lists of junk mail.
Unsubscribe from things you don't read. Or at least don't renew your subscription if you hardly ever end up reading that magazine anyway.
Sign up for e-statements. As long as you check your email often, it's just as easy to get statements online. You can look over them on your computer, print if needed, and store in a special inbox folder for reference.
File right away. Or at least once a week. I try to set aside a few minutes each weekend to file so the pile doesn't get too big. Once it gets overwhelming, it's a lot easier to procrastinate. (I've been there, trust me.)
The less paper coming in, the less overwhelming it is to organize! Even getting rid of a little bit at a time will help a lot in the long run.
Here's a recap on how to get the paperwork under control:
Organize important documents
Organize handbooks and manuals
DeClutter & organize the rest of the files
Create a system to keep the paperwork under control
All of these steps will help you get that paperwork under control for good.
How do you organize your paperwork?
*This post contains affiliate links. For more info, see my disclosure policy.