To go along with my recent post on How to Create a Successful Cleaning Schedule, I thought I'd put together a printable that helps you do just that: plan a cleaning schedule that works for you and your family.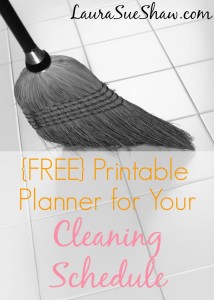 These pages consist of places to brainstorm what needs done when, some important questions to ask yourself, space to split responsibilities between family members, and finally a page of notes.
Click Here to Download Your Cleaning Schedule Printable Planner!
I hope you find it helpful as you plan YOUR ideal cleaning schedule!