During the holidays, homes can be nice and festive – filled with laughter, warmth, and delicious smells of home cooked meals and freshly baked cookies.
But what about after the holidays, when there are still at least two months of bleak winter weather to endure? How can you keep that warm, comfy feel to your home after the festivities are over?
Well, I have a few ideas. Here are some ways I like to keep our home feeling cozy all winter long. Choose one or several to use in your own home for a cozy feel all winter long.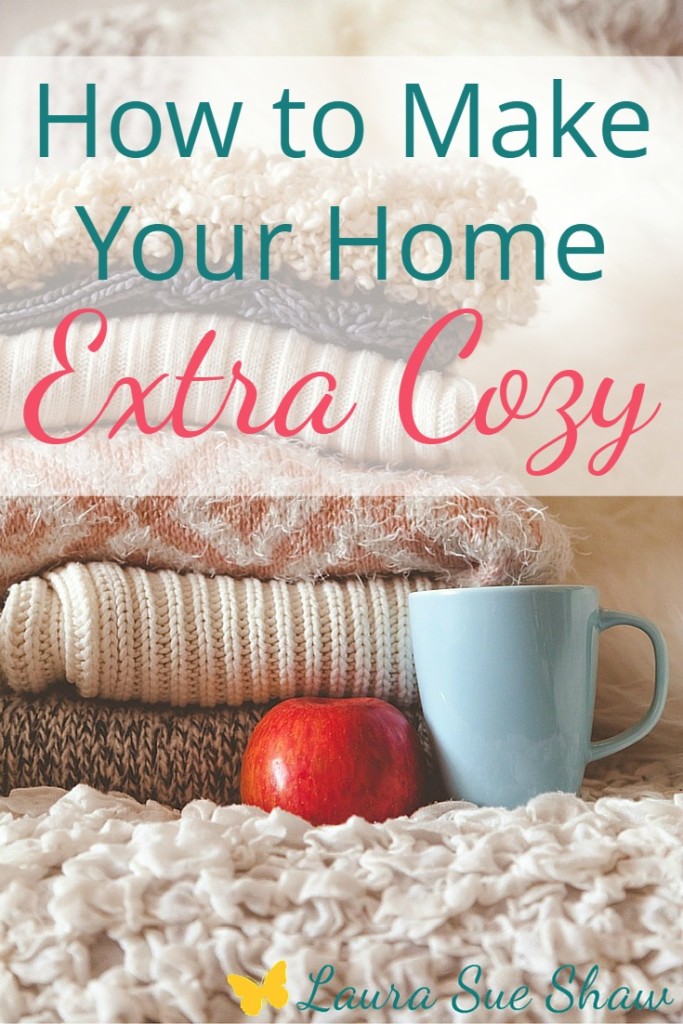 Light a Candle
There's nothing like the glow of a candle to create a warmth in your home. Even if you can't do candles (we rarely burn them in our house – I always diffuse essential oils instead) just a sweet, warm scent can change the atmosphere from cold to cozy.
I love to diffuse On Guard + Breathe together in a diffuser like this. The diffuser offers a warm glow similar to a candle and the essential oils support our immune and respiratory health. Cozy AND healthy – a double win!
Have Extra Blankets Out
Just having the option to cozy up under a blanket makes for a warm atmosphere. We have lots of blankets around our house – but half the time our dog takes one to lay on! So I guess she appreciates the cozy feel of a home with lots of blankets 🙂
I just fold them a couple times and drape over the side or back of the couch. It adds a decorative touch and the blankets are right within arm's reach.
I personally love heavy, soft, chunky blankets like this one.
Break out the fuzzy slippers and socks
I don't know about you, but I love a good pair of fuzzy, warm socks. Especially since my feet have the tendency to get pretty cold. I have several pairs that I break out as soon as the temperature drops outside. But slippers work too if that's more your thing.
Point is, keeping your feet nice and toasty makes the rest of you feel pretty cozy too. Another plus is that fuzzy socks and slippers make great gifts!
On a similar note, it's the time of year where I get out all of my cozy sweaters too! I love to throw on a sweater on top of whatever shirt I'm wearing. I always tend to get cold so it comes in handy to keep me warm. It feels cozy too.
Play some music
Though this isn't something we normally do, I know a lot of people enjoy having music playing in the background.
I find it helpful for making the time go by faster when I'm working on a household project.
Making playlists can be helpful for when you want different types of music – your favorite motivating songs for cleaning, positive and uplifting songs when you need a mood boost, or just instrumental pieces when you just need a little background noise.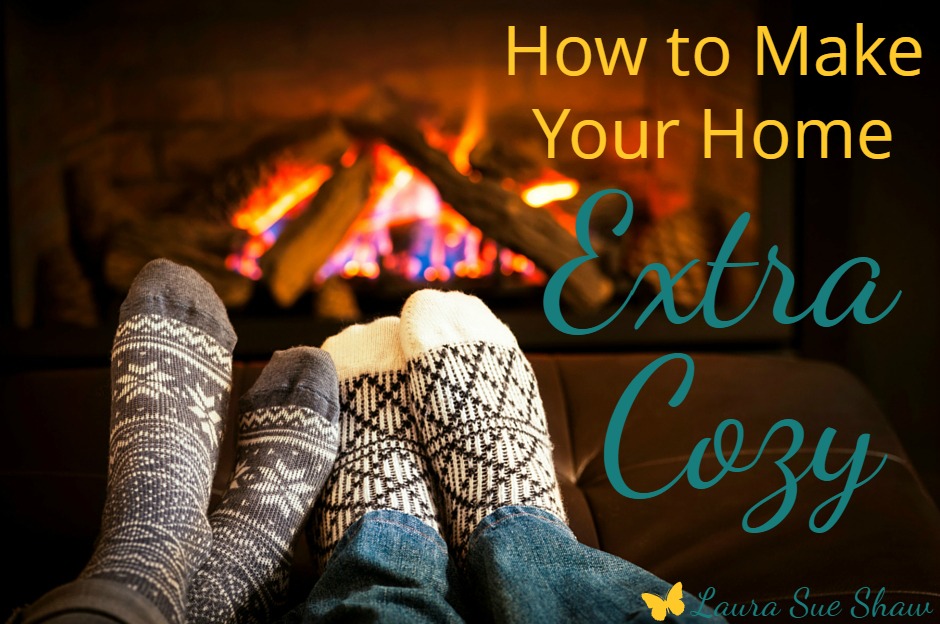 Decorate
Decorate your home with things you love. Personally, I'm a minimalist in decorating. Partially because that is not my strong suit! But my favorite way to decorate is with family photos. For me, nothing says cozy like being surrounded by loved ones, even if it's just in pictures that day.
Other favorites include hand-crafted pieces by my great-grandfather. They fit the traditional feel of our home and it's so cool to have family heirlooms displayed that way.
Make a Warm Drink
In my opinion, one of the coziest things is a mug full of warm coffee or hot chocolate. It's a big source of comfort for me to cozy up with a warm drink. But there are other options too, such as cider or tea.
When it's cold and damp outside, there's nothing quite like a warm drink and blanket to keep you warm inside.
Use the Crock Pot
I love using the slow cooker and not just for the convenience! It makes the whole house smell delicious all day long.
And you not only get yummy smells all day but dinner too! Some of my favorite crock pot recipes for cold weather are slow cooker potato soup and cheeseburger soup.
Make Homemade Bread
I don't do this often enough, but there's nothing like baking homemade bread. Especially if you have a bread machine – it does most of the work for you! One of my favorite bread recipes is this Apple Bread.
Other homemade goodies work too! No matter what your family's tastes are, something yummy baking adds to the coziness of your home.
Here are a few other favorite recipes to check out:
Light a Fire in the Fireplace
Growing up we didn't have a fireplace, but my grandparents did. Of course, they lived in the warm south so it wasn't necessary to light it very often 🙂
I have fond memories of their living room fireplace burning at Christmastime and of sleeping in their warm finished basement with the wood burning stove going.
In our new house, we have a fireplace in our living room so I can't wait to have it going to cozy up a cold winter day.
Even if you don't have a fireplace, there are electric options like this out there. Or, if that's not an option there's plenty of other ways to stay cozy.
Lighting a candle or diffuser, playing music, decorating, using blankets, cooking, and lighting a fire in the fireplace are just a few ways to add some coziness to your home.
But you don't have to do it all! Do what feels coziest to you and your family. Picking just one or two things from this list can make a big difference in the atmosphere of your home.
Simple little touches can add a lot of warmth to your home any time of year.
Chime in: How do you like to make your home cozy?
This post contains affiliate links. For more information, read my disclosure policy.