This has always been a popular dinner recipe with my family. This was the first time I've made it for just my husband and me. It turned out great and was gone within a couple of days!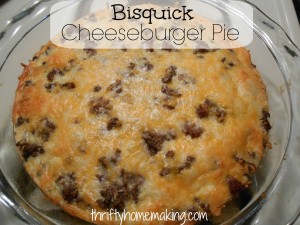 Ingredients:
1 lb ground beef

1 onion, chopped (I skipped this time and it still turned out fine)

1/2 tsp salt

1 cup shredded cheddar cheese

1/2 cup Bisquick mix (or a Homemade Baking Mix)

1 cup milk

2 eggs
Directions:
Heat oven to 400F and spray pie plate with cooking spray.
Cook beef and onion until beef is browned. Drain and return to skillet, adding salt.
Spread beef in pie plate and sprinkle cheese on top.
In a small bowl, mix remaining ingredients with a fork or whisk until well blended. Pour mixture over beef & cheese.
Bake for about 25 minutes or until a knife inserted at the middle comes out clean.
Enjoy! We like to eat this with some ketchup on top or on the side 🙂 Yum!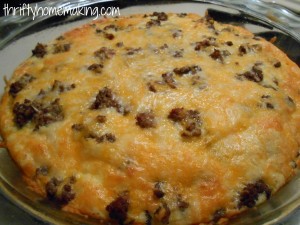 You may also like:
*This post may contain affiliate links. For more information, read my disclosure policy.