Organizing is hard work.
It's not easy to keep track of everything going on in your life and have your home in order, too. I'm not going to act like it's a walk in the park. It takes work.
If you're feeling especially disorganized, I want to share with you my 5 favorite resources that keep my life running smoothly (most days anyway.)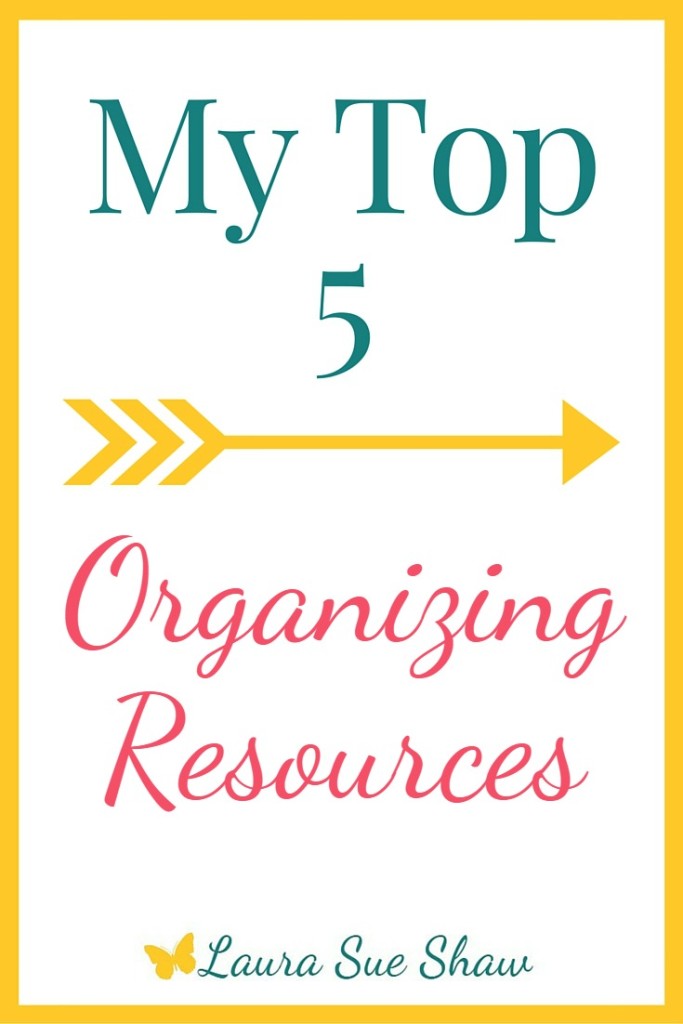 I really can't say enough good things about this planner. I love it. My life would be a lot more messy and I'd forget half the things I need without it!
It has a weekly overview with room for meal planning, grocery lists, notes, bills to pay, and so much more. There are also monthly finance pages, monthly calendar, and monthly notes (This is where I list out some goals for the month.) You can read about it in my On the Go Planner Review.
2. Plastic Containers
I love to organize with these types of containers.
As pretty as baskets can be, in a lot of my organizing they're just not very practical. I still use them, of course, but for most of our storage I like stackable plastic containers. Even better if the containers are clear and the box is properly labeled!
3. Hooks
Command hooks are amazing!
I use them in my office closet to hold all of my sweaters (I probably have too many).
But the hooks hold up great and add some needed storage space to a very small closet.
4. Pen & Paper
The next is a good ol' notebook and pen. As much as I love the digital stuff and how helpful it is to keep me organized anywhere, sometimes I just need to sit down with a notebook in front of me and a pen in my hand.
I'll brainstorm, make lists, and strategize about plans and next steps to take in my business and life.
5. Google
Gmail, Google Drive, Google Calendar, and Tasks all work together great to keep things organized.
I especially love Google Keep. I have it as an app on my phone but it's also a web app connected to your Google account. It works so well to jot down notes and reminders, or make quick lists. You can also set reminders in the phone app.
With all the opportunities vying for your attention, these are some great places to start to get your life more organized.
I'll leave you with some an actionable step and a question:
ACTION ITEM: Pick ONE of these resources to implement right away. Don't try work on more than one at at time!
What are YOUR favorite organizational resources? Tell me in the comments below!
*This post may contain affiliate links. You can read my disclosure policy here.