So you have finally went through your things and taken several bags to Goodwill. Your home is less cluttered and more peaceful-feeling with all that stuff gone.
But how long will that last?
We all know clutter has a way of sneaking right back in.
But this time around, I'm determined to not let it overtake my house (again.) I just finished the biggest decluttering project I've ever done and I'm not going through that again! This time, clutter is out and it's staying that way.
So here are some principles I've established this year for keeping the clutter at bay. These steps can help keep your home decluttered for good.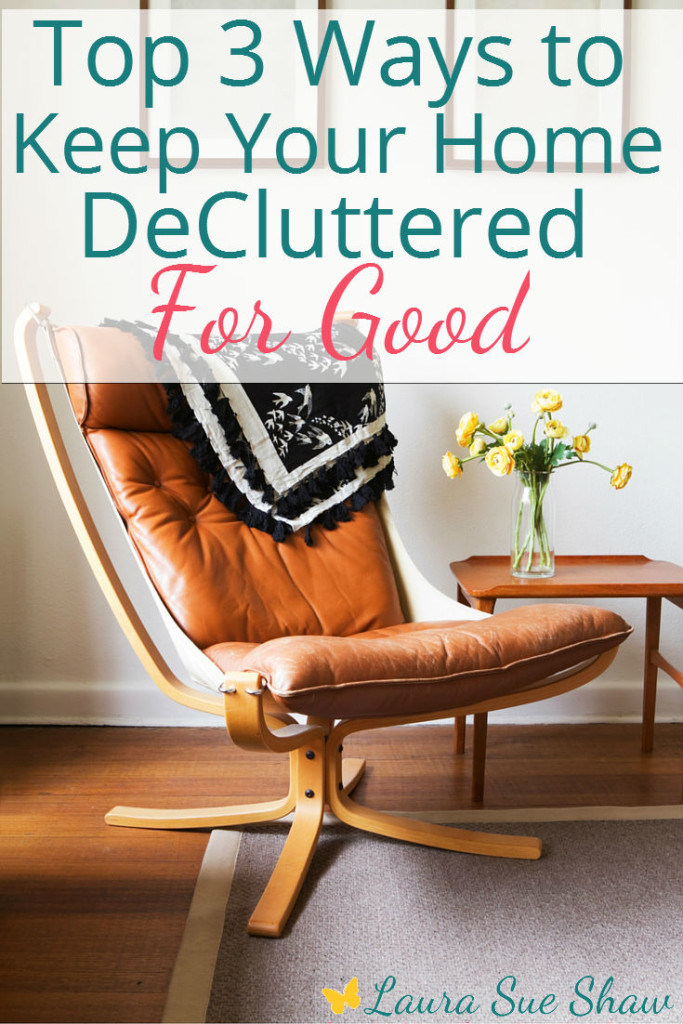 Have Donation Box
Keeping a donation box in a closet or somewhere out of the way but accessible is a great way to keep clutter away because every time you find something to get rid of, you can simply put it in the box.
Having the box out of the way is also important though. If I see what's in it too often, I might change my mind about getting rid of some items!
Be (Very) Careful About What Comes In
This year I'm committing to being extra careful about what comes into my home. I need to be aware of what's there and if something in my shopping cart is truly necessary.
I'm not saying I'm not going to buy anything.. I still have a very big weakness for cute office supplies.. but I am going to be more conscious of what's being brought into our home so I don't end up with more clutter.
Keep a DeCluttering Schedule
Go through the areas that get cluttered the easiest on a regular basis. Every other month or so I'll spend a few minutes going through areas like the medicine cabinet, pantry, refrigerator and freezer, desk and paperwork, etc.
A really easy way to accomplish this is to use my Ultimate De-Cluttering Checklist every other month or so. It lists all the common areas clutter tends to hide so you can take care of it before things get out of hand.
Cleaning out the clutter was such a relief that I never want to go back to having that much of it. So with these three steps – having a donation box, being careful about what comes in, and keeping a decluttering schedule – I believe that this year my home is going to STAY clutter-free.
Join the email list for the latest organizing and planning tips!