Do you ever feel overwhelmed by healthy living?
We know it matters. But sometimes it's a whole lot easier to say than to actually do, you know? Believe me, I've had the same struggles and questions as you. What on earth do you eat? How do you afford to buy healthier products? And where do you find the time to make and do all this stuff? It can be frustrating!!
I know what it's like to feel that healthy living shouldn't be this hard, and it shouldn't have to cost so much, either! Don't you ever wish someone would just tell you exactly what you need to know and how to make these changes for less?
Because when you have the right info and tools at your fingertips, it all comes together so much more easily.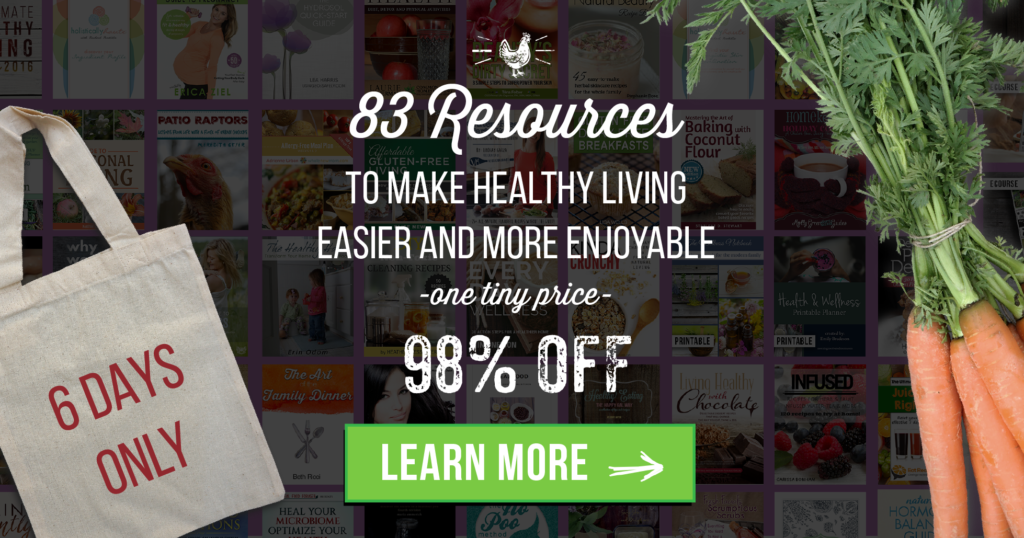 You learn to replace store-bought products with DIY options that actually work and are easy to make. You feel better (and even look better, too). Healthy living becomes less stressful and more enjoyable.
You sort of need to see it to believe it, but the package includes 83 digital products and it's worth over $2,400!
For the cost of a small bag of groceries, you'll get a complete healthy living library to help you:
prepare whole & delicious real food
get the toxins out of your house for good
understand and use natural remedies
breathe new life into your exercise habits
learn about important women's health issues
raise exceptionally healthy kids in an unhealthy world
plus learn about gardening & homesteading, meal planning, weight loss and so much more!
Plus, it comes with over $250 worth of bonus offers!
By offering the bundle for a short time only, they're able to give you access to over $2,400 worth of high-quality eBooks, eCourses and printables for a whopping 98% off!
No one should have to put off a healthier lifestyle because it costs too much or they can't get the help they need.
Get what you need for your healthy lifestyle. Learn more or get your bundle HERE!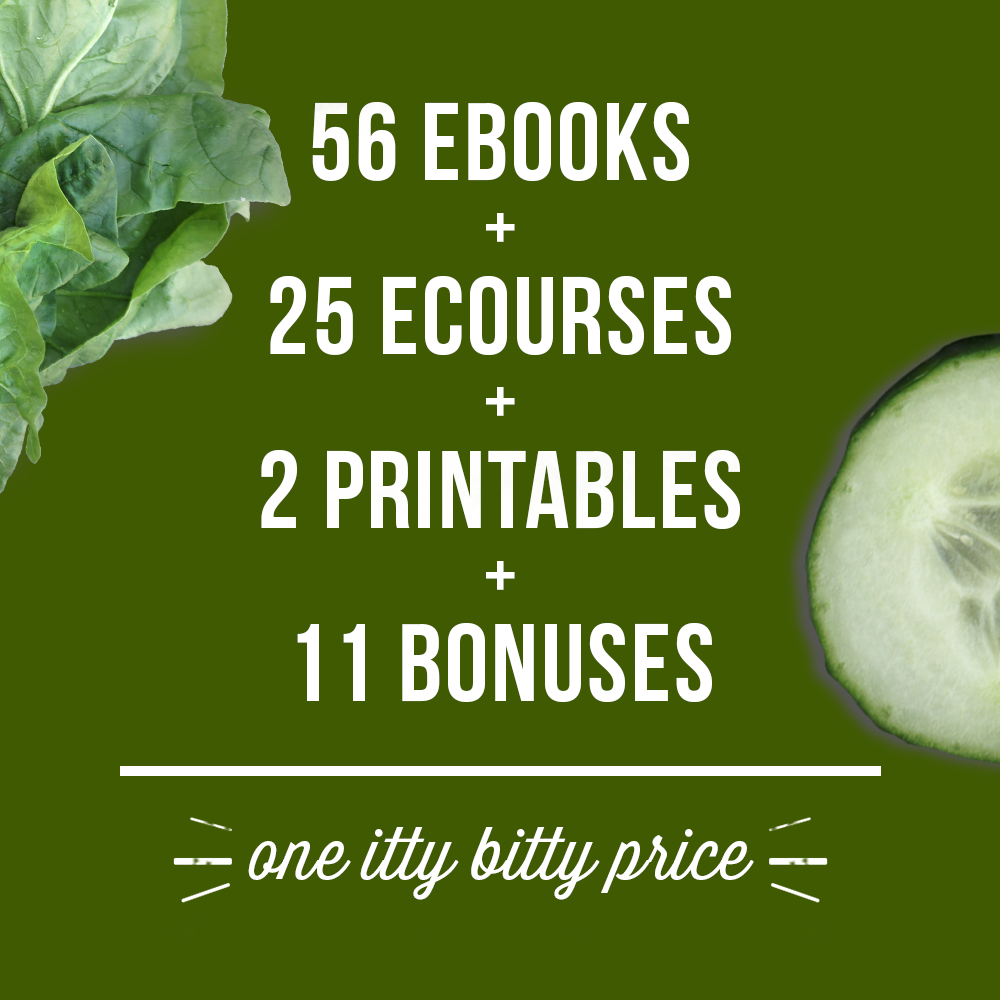 Here's the full list of what the bundle includes:
Alternative Health
DIY Beauty & Skincare
Essential Oils & Natural Remedies
Fitness & Weight Loss
For Women
Gardening & Homesteading
Gluten- & Grain-Free
Healthy Kids
Healthy Lifestyle
Paleo
Real Food & Nutrition
Recipes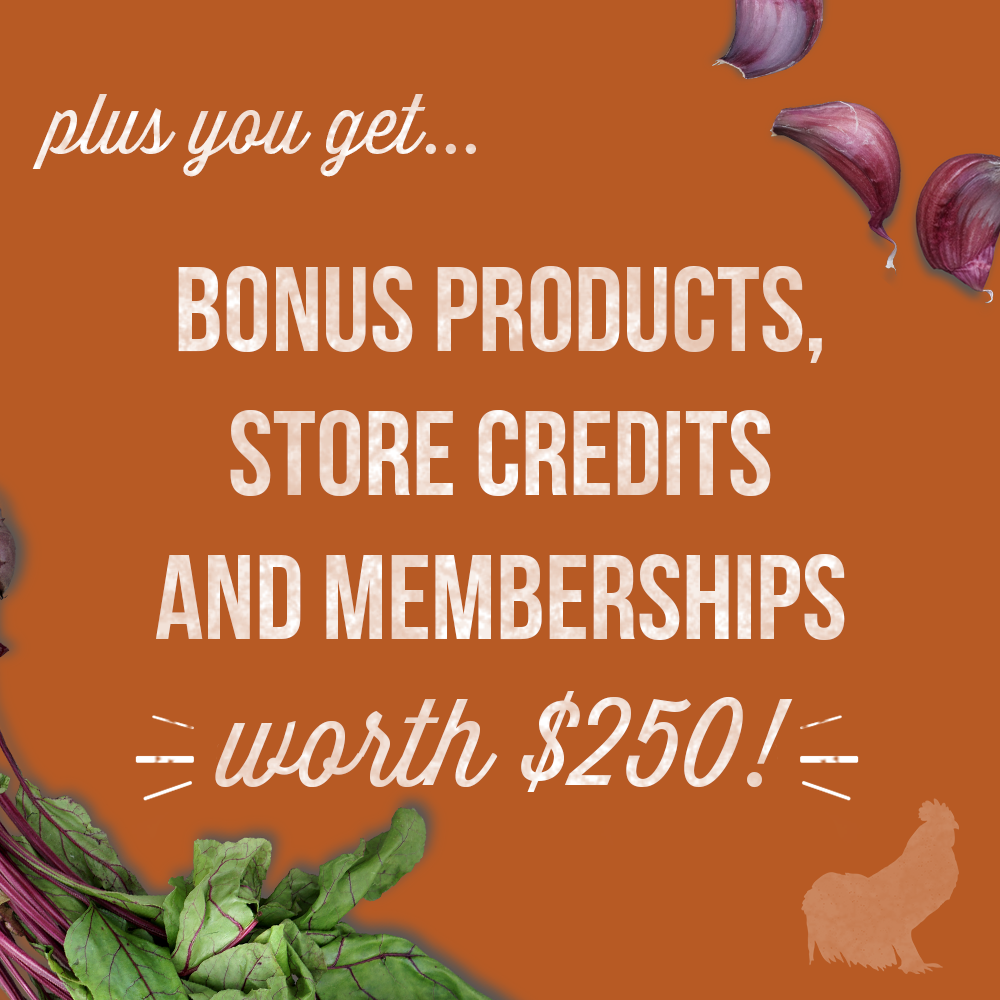 This year's Ultimate Healthy Living Bundle ALSO comes with over $250 worth of bonus offers including:
1. Bloom Naturals – $15 gift certificate toward any product ($15 value)
2. Perfect Supplements – $15 gift certificate toward any Perfect Brand product ($15 value)
3. TriLight Health – $15 off select TriLight products ($15 value)
4. MadeOn Skin Care – FREE BeeCool Muscle Balm Stick and Natural Lip Balm Combo (value $15.25)
5. The Maca Team – FREE Organic Gelatinized Yellow Maca Powder, 8 oz. ($15.44 value)
6. Primal Life Organics – FREE 1-ounce jar of Dirty Mouth Toothpowder ($15.97 value)
7. Get Kombucha – FREE 2-week supply (15 ml) of Kombucha Pro: Liquid Probiotics (value $29.99) AND/OR a FREE 1-ounce bag of 8. Get Kombucha's Custom Organic Kombucha Tea Blend (value $15.99)
9. Orglamix – FREE Mineral Eye Shadow Trio ($18 value)
10. Experience Life – 4 FREE digital guides (value $29.99)
11. Grove Co. – FREE Mrs. Meyer's 64 Load Laundry Detergent, Mrs. Meyer's Fabric Softener, 60 Day VIP Trial, and FREE shipping with a $20 minimum purchase for new customers ($32.66 value); FREE 1-year VIP Membership ($39.95 value) for existing customers
12. Meal Garden – 6 months of Meal Garden FREE (value $35.70)