Are you ready to take back control of your health?
*raises hand*
I started the year with the goal to make some health changes. After two subsequent pregnancies, my body is tired. I'm ready to make nourishing food a priority.
Though I think I already do fairly well, there is still plenty of room for improvement. But since I have a baby this year, the changes needed to be super simple and DOABLE. So here I'm outlining my plan to get healthier this year.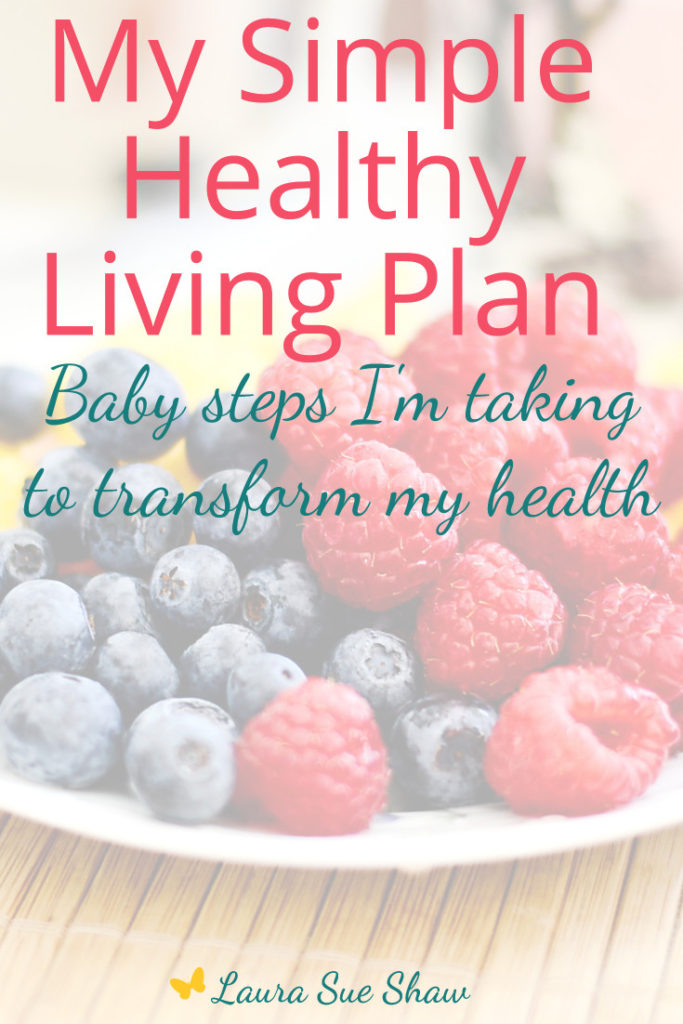 Cut back on sugar
Like so many, I know I consume too much sugar. Now, I don't think sugar is a bad thing – it's the added, processed sugar in so many foods that is taking things too far.
Coffee
For example, I'm going to work on cutting back the amount of sugar I put in my coffee, which is about 2 teaspoons right now. This is going to be a tough one! But it should cut back on my craving for sweets and eliminate a few teaspoons of sugar in my diet each day.
Update September 2017: Success! I'm down to just one teaspoon of Stevia in my coffee.
Cut back on processed foods
We don't do too bad here, but there are still some adjustments I'd like to make.
Better snacks
The majority of processed food I consume is snacks. It's nice to have it already proportioned, but with a little extra work I can put together my own pre-portioned snacks without added ingredients.
Fewer convenience dinners
I do get frozen pizza and stir fry mixes. I'm not planning on completely cutting them out, but just not having them quite so often. I still think they're better than going through the drive through!
Focus on eating more vegetables
I read somewhere that HALF of your plate at each meal should be fruits and vegetables. (If I remember correctly, another fourth was protein and the last fourth carbs/starches.)
In order to do this, I need to not only make sure I have vegetables on hand, but actually cook them. This shouldn't be hard, as they come in steamer bags and cans. But sometimes it still doesn't get done. But that's going to change this year!
Meal Planning and Preparation
Another goal I have is to do better at meal planning and prep. Things go much more smoothly and we eat a lot better when I have a plan for meals mapped out for the week. Furthermore, when I take some time to prep on Sunday, it helps even more!
Eat a More Balanced Breakfast
I've always been good about eating breakfast. It's not a meal that I usually skip. In fact, I'm often pretty hungry in the morning! But it's time to balance my breakfast a little better and include more protein that will keep me fuller longer.
Exercise More
To start out I'll commit to exercising 10 minutes a day, 6 days a week. Now, I know this is far under the recommended amount. But you have to start somewhere and some is better than none – especially with a newborn in the house!
Update September 2017: Some goals are going well (like eating more vegetables, cutting back on sugar, and meal planning). Others I haven't made much progress – like exercising more! But I'm super happy with the progress I've made so far.
That being said, I wanted to add a few more things I've been doing that have helped me feel better:
I'm taking a multivitamin / supplement daily
I've been taking the doTERRA life long vitality supplements and I can definitely see the difference!
Most vitamins and supplements have a low absorption rate, but these have over 90%.
I'm taking a probiotic
I also just started taking a probiotic – PB assist from doTERRA. It is double encapsulated so the probiotics can reach your gut without being damaged by stomach acid.
I'm doing some realistic exercising
I have been really slow getting back to exercising after my son was born in January but I'm finally getting there.
I've been sticking to things that are super realistic in this season.
Mommy and me workouts where I can include him and going for walks. Thankfully he does really well in the stroller and will even nap in it!
I'm tracking my food intake and working on increasing my water intake
I use My Fitness Pal app to track my food and I track my water in my planner.
It may seem like a lot, but keep in mind that these are things I'm going to be working on implementing throughout an entire year. With one baby step at a time, I'm determined to make 2017 our healthiest year yet!
If you'd like more information on the doTERRA products I'm using, you can visit my doTERRA site or contact me.