I was so excited to find out that Aldi is permanently starting to carry some organic items! Granted, the organic items are slightly more expensive than non-organic counterparts, I think it's worth it for the health benefits. By buying organic at Aldi, you still spend far less money than buying organic items elsewhere. Here are some of the items I have tried so far and what I thought of them: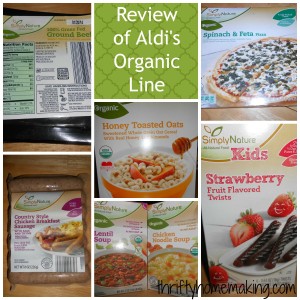 Vegetable Pizza: This pizza had a very fresh taste to it with all the veggies. Personally I'm not a big fan of green peppers, though, so I ended up picking most of those off.
Spinach and Feta Cheese Pizza: Oh my goodness, this one is sooo good! I loved it! It had a very nice amount of spinach and cheese on top of a tangy tomato sauce.
Cheese Pizza: This thin-crust pizza was nice and crisp with a good amount of cheese on it. I liked it!
Chicken Soup: This one was ok. I really wan't a fan of the spices they used. If they changed up the blend a little bit, I think I would like the soup a lot better.
Honey Oat Rounds: I love Honey Nut Cheerios, so I was very excited to try Aldi's organic version. It was great! It had a lot stronger and more natural honey flavor to it.
Grass-fed organic beef: I found this on sale for only $3.49 a pound! It was cheaper than the regular beef! Anyway, it was really good and I thought it had better flavor than non-organic beef.
Pasta sauce: Yum! It was a little tangier than the kind I usually buy, but it had a really nice flavor. Up next to try is their organic spaghetti!
Have you tried Aldi's organic line yet? What do you think of it?
*I am not affiliated with Aldi in any way*