A big struggle I see is organizing and decluttering paperwork. And I totally get it.
Though I finally have a pretty good system in place, it's a struggle to keep up with it. Mainly because I hate filing!
But today I'd like to discuss one of the most important pieces in organizing your paperwork – having an emergency kit / fireproof box! I think this is absolutely essential – you never know when something will come up where you need one or more of your important documents.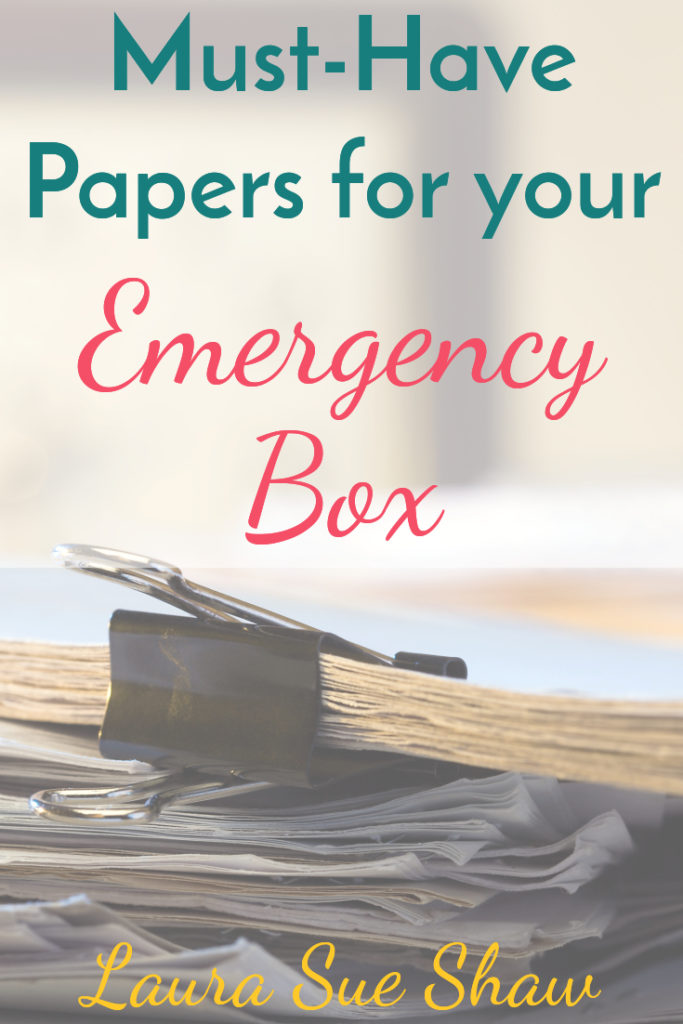 All you need to do is take all of your important documents and file them in a separate, safe place such as a safe deposit box or at least a fireproof box in your home.
Having all of your important documents in one place will make it so much easier in an emergency situation. It also reduces panic when you need an important piece of paper and you can't find it. (Not that I know that from experience or anything…)
Ours is a simple fireproof lock box like this one. They're inexpensive and pretty easy to find.
Here's what you should keep in your emergency kit:
Copies of..
Social security cards

Driver's license

Birth & marriage certificates

Will/trust documents and POA

Recent income tax return

Passports

Military discharge papers

List of prescriptions with dosage & pharmacy

Contact list

Insurance policy information

Bank information

Safe deposit box keys or combo

User names and passwords

Emergency Cash
Having this in place is the perfect start to organizing and decluttering your paper collection. Not to mention the peace of mind you'll have knowing that all of your most important pieces of information are all in one place.
If you're ready for the next step, check out my Ultimate Guide to Organizing Paperwork!