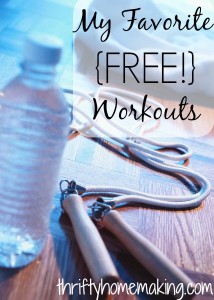 Personally, I prefer exercising in the comfort of my own home. This way I don't have to deal with sweaty gym smell or extreme heat or cold outside. I've used several different DVDs with walking, pilates, etc. But my favorite is Jessica Smith's videos on YouTube. She somehow manages to make the workouts as fun as exercising can be.. even though working out will never be on my list of favorite activities.. anyway, I highly suggest checking out her videos. There are several varieties, so you are very likely to find something that will work for you! Plus, she has an adorable french bulldog that makes a cameo in several videos 🙂
Here are just a few that I've tried and loved:
Other free ways I work out include: playing "Just Dance" on the Wii, taking the dog for a walk, and I also count giving the house a good cleaning as exercise!
What are your go-to workouts?