Ever feel like the paper piles keep growing and there's no way you're ever going to catch up?
I've totally been there – in fact, paperwork seems to be the hardest part of decluttering for me, especially in the past year. After my son was born the paper clutter was one of those things that just didn't get done.
But now it's to the point that I can't ignore it anymore. Especially since the other day, I went to get an important document and it took forever to dig it out of the mess. I'm ready to get the paper under control, organized, and KEEP it that way.
So let's do this together! And the place I always start is getting rid of the paper we no longer need.
Now, a lot of experts suggest keeping most bills for one year. And if you want to do that, go for it. But these days all but one of my statements are available online so I really don't feel the need to keep them past a month or two.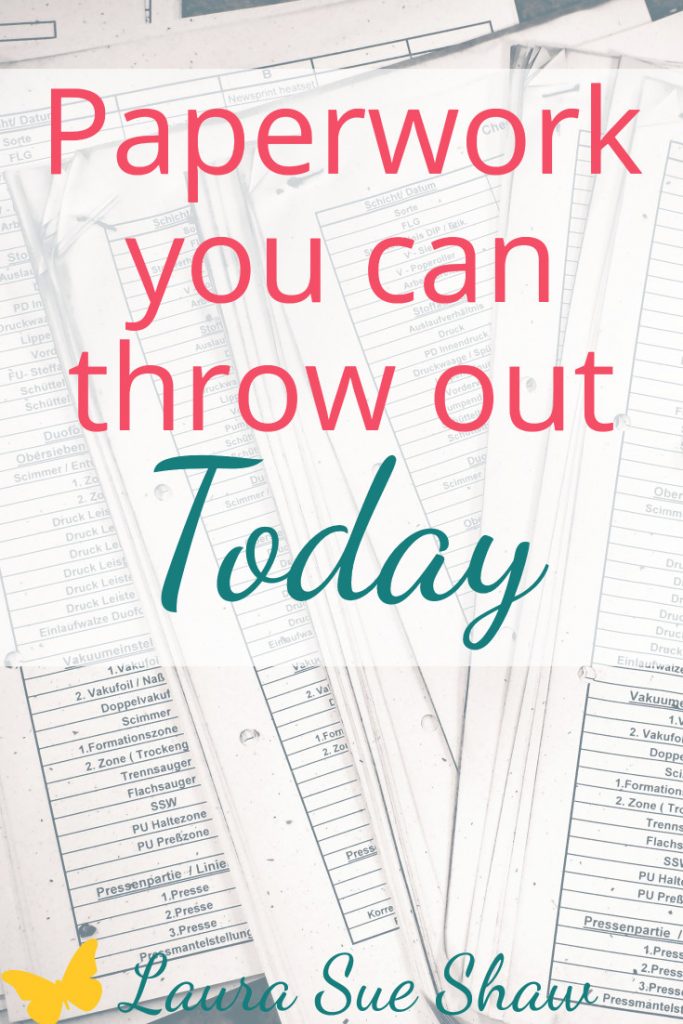 Here is the list of paperwork you can throw out in the shred or recycle bins:
Receipts you no longer need

Expired coupons

Deposit/ATM slips

Reconciled bank statements

Utility bills over 3 months old (1 month if available online)

Business cards

School notes

Magazines

Newspapers

Greeting cards

Phonebooks

Old notes and journals

Old calendars and planners

Kids' artwork (Save the special ones and take pictures to document the rest if you wish.)

Manuals of things you no longer own or that are available online

Old insurance policies

Old 401K statements (I only keep the most recent)
What to Recycle and What to Shred
I go by the philosophy of better safe than sorry and shred anything with identifying information on it. As I'm going through papers I keep two boxes nearby – one for recycling and one for things that need to be shredded. This makes sorting quicker and easier!
Keep Without the Clutter
Another option that is gaining more and more popularity these days is digitizing your files. This eliminates the piles of paper and instead you scan and file digitally. Many people use Evernote to accomplish this.
This is also really useful for sentimental items that you'd like to document and remember but don't have the room to keep lying around.
I haven't done a whole lot of digitizing myself yet, but I'd like to eventually. It would be nice to get rid of the file cabinet in my office!
That being said, if you're going to scan and digitally store important files, make sure your security is top-notch.
What's Next: Organizing What's Left
After you've gotten rid of all the paperwork you can throw out, it's time to start organizing what's left!
Read: The Ultimate Guide to Organizing Paperwork
Ready to get started? Download my file cabinet cheat-sheet to make it easier to get your paper organized.