Are you trying to switch to a more whole-foods diet? I am! There are so many preservatives and chemicals in foods these days, I am slowly making small changes to incorporate real foods into my cooking.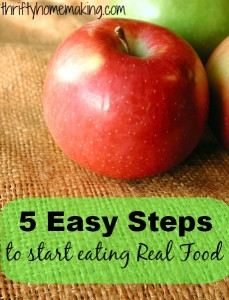 I don't exclusively eat "real" food by the way, and most likely never will. But I think if we make small changes as we can that we can live healthier and feel better about the food we are eating. Here are 5 simple changes I've made to get started:
1. Switch to pure maple syrup
Did you know that the only maple in most syrups on grocery store shelves is a small amount of "maple flavoring"? This was a really easy switch… pure maple syrup tastes SO good.
2. Use unbleached flour
Unbleached flour is processed less than the bleached variety.
3. Buy Real butter
I have cut out margarine and switched to actual butter. When used in moderation, the fats in butter are good for you.
4. Know the clean fifteen/dirty dozen
The "dirty dozen" fruits and vegetables are the ones that are more important to try to find organic.
5.  Find local farm fresh eggs
These are easier to find in warmer months, but when they are available I try to buy them.
This book is my favorite resources for learning the basics of eating real foods! At over 170 pages long, it includes tons of great information and is full of easy "real" food recipes.
What are your best tips for switching to more real foods?
*This post contains affiliate links. You can see most full disclosure policy here.
Thank you so much stopping by my blog! I'd love to keep in touch!
Be sure to "like" the Facebook Page for tips, inspiration, and more!