{This post contains affiliate links. You can read my disclosure policy here.}
Christmastime always seems to sneak up out of nowhere. One minute you're picking out a pumpkin and the next it's suddenly crunch time to figure out what you're getting your loved ones for gifts. It's a good thing they put up Christmas decorations up in stores so early as a reminder, otherwise I'd be running even more behind! 😉
If you're like me and need a plan put together to make sure you get everything done on time for the holidays, then I highly recommend 30 Days to Christmas from Jennifer Tankersley from ListPlanIt. Even better? The plan is laid out for you and it even includes printables to keep you organized.There's a page for each of the 30 days leading up to Christmas that includes the description for the day's tasks, along with items to review and new tasks to do.
I love the daily to-dos and how it incorporates the other things going on in our lives before Christmas: Thanksgiving, get-togethers, etc. Also, the printables are awesome! They include: budget planning, wishlist, calendar, gift list, black friday shopping planner, advent activity planner, holiday card planner, holiday craft and party planners, and many others!
You can join in more fun on the interactive 100 Days to Christmas Facebook page to share how you're doing preparing for Christmas.
30 Days to Christmas has such a practical, workable plan of action to make a productive, stress-free month before Christmas.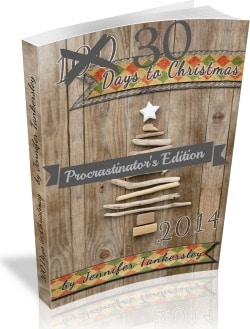 How are you doing preparing for Christmas this year?