As you might have read in my Maple Oat Cookies recipe, I'm trying to start eating more whole, healthier foods. This recipe is what I came up with for a quick, healthy soup. The sodium can add up quickly in soups like this, but with low sodium or homemade chicken broth and frozen vegetables the count can be kept pretty low.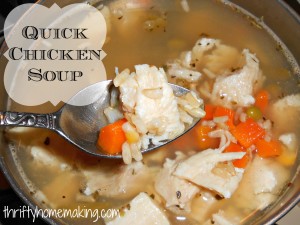 Ingredients:
1 cup cooked brown rice
1 cooked chicken breast, cut into small pieces
1 can low-sodium chicken broth (or homemade- even less sodium!)
1 can or 1 bag of frozen mixed vegetables (I'd recommend frozen, but I made this with canned because that's all I had on hand. If you drain canned vegetables or use frozen, add about 1/2 cup of water to the pan as well)
seasoning to taste (I used a dash of pepper, Italian seasoning, & basil)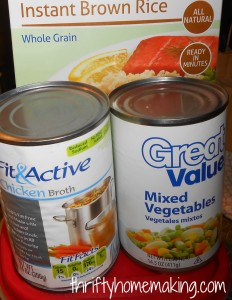 Directions: Combine broth, vegetables, chicken, & seasonings in a large saucepan over medium heat.
Once it starts to boil, add in the rice.
Simmer for about 10 minutes.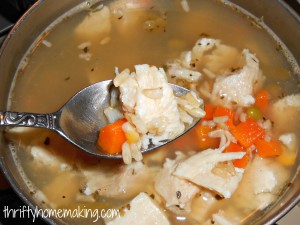 Enjoy!
Are you wanting to learn more about eating whole foods? I'd highly recommend the post on Homemaking from Scratch titled a Grace-Filled View on Food. They also have a fantastic cook book! {affiliate link – read my disclosure policy here}