Let's talk a little bit about how to keep grocery shopping simple. I don't know about you, but I am not a big fan of going to the grocery store. If you're like me and don't particularly enjoy grocery shopping, you are going to like these tips to keep it as simplified as possible.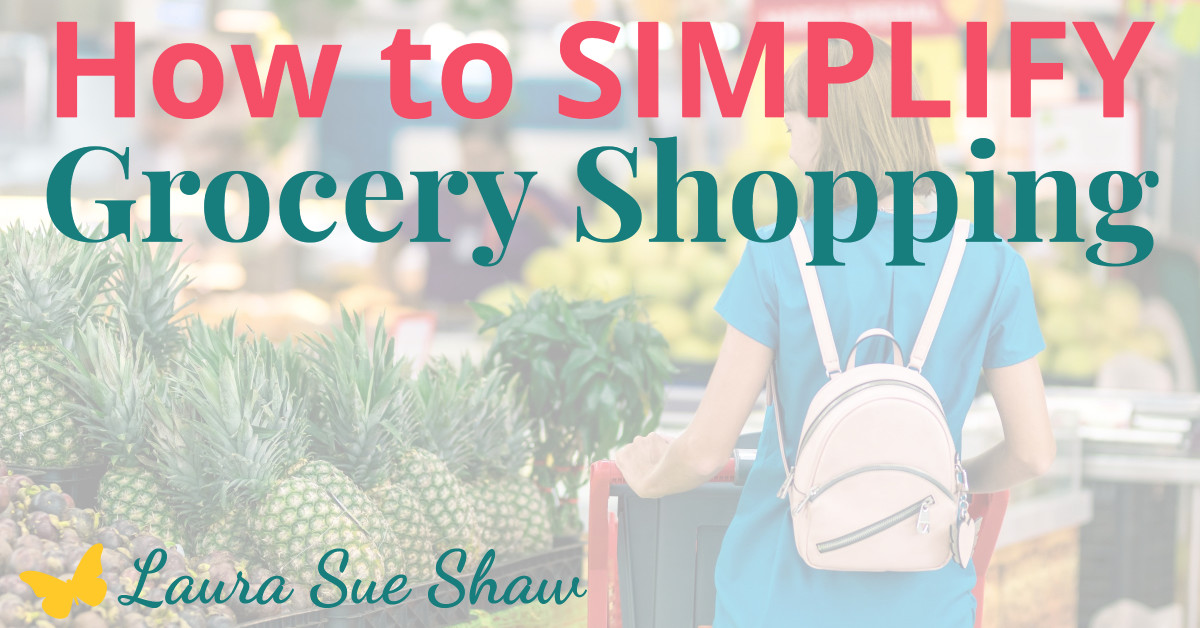 Creating a Simple Menu Plan
So first off, let's talk about menu planning because having a menu and knowing where to start on making your grocery list is really important. So I usually start with the pantry, see what I already have on hand, what I can use in the upcoming week.
And then from there I usually take a quick look at sales. And then from the pantry and the sales, I'll make my menu. The store and grocery shopping is actually the fourth step of that process.
So again, that's:
But nowadays I don't actually go to the store very often. I am a big fan of Instacart personally, mainly because my little guy hates grocery shopping and instead of trying to figure out grocery shopping on my own between my husband and I schedules, it's so much easier and saves me so much time with just getting the groceries delivered.
Is Delivery Worth It?
So first of all decide for you whether it's worth looking into one of those services here. I know there's Instacart, there's ClickList with the local Kroger. And I also know of a company called Shipt that delivers for Meijer. Also ever-expanding is Walmart grocery pickup, which is amazing and actually free.
So if any of those are an option for you and you shop at some of those stores then it may be worth it to use one of those services. In my city, Instacart delivers for Aldi and since I get the majority of our groceries there, it makes sense for us. But note that this was before the local Walmart started the free pickup. I'm going to have to reevaluate once my Instacart's subscription is up next spring, but the $99 a year membership was worth it because I did the math and it would pay for itself within around three months with what Instacart charged for the service and delivery fee.
So then I just had to pay the tip and the markups. Now on many items, there is a markup with Instacart. However, in comparison of what I'm charged and the receipts I received, it has never been much more than $5. Part of that though, is because I don't buy the items through there that I can tell are marked way up. So that is something to consider.
I am not sure about any markups on some of the other services, but I'm pretty confident that Walmart does not mark up its items as when you pick it up. So that is always a good thing to keep in mind for the $35 minimum if it's available in your area. If you spend $35, you can pick it up for free. And that saves me so much time. I love just being able to drive up and they'll bring my order out. I also love that I don't have to drag a toddler in and convince him to ride in the cart and explain that we don't eat the food until we actually pay for it.
Is going to multiple stores worth it?
All right, so now let's talk about shopping the sales and whether going to multiple stores is worth it. Really you just have to look at your season and how much time you have and if the time and money is worth it for your budget and your season.
If you're only going to be saving a few bucks, the time and gas is definitely not worth it. For a really great deal to stock up on something you use all the time, it might be worth it.
How to simplify shopping in-store
Finally, let's cover how to simplify some in store shopping. First of all, make sure you follow a path and just ask. Those are my main two tips.
Follow the same path through the store. This is really easy when you have a pretty regular menu plan that you rotate through. You know what your regular items are and where they are, (as long as they didn't change the store around that week.) And then just ask if you don't know where those items are that you don't get every week. If you see someone working there, don't be afraid to ask. They may be able to point you right to where it is. So that has always saved me the time of searching and searching for something.
Overall I would just encourage you to look at the time versus money and your season and your budget. But just do what works for you and don't feel guilty about it! We are all in different seasons. Our lives look different and you just do what works for you and it doesn't matter what works for anyone else. So I want to leave you with that bit of encouragement.
All right. So I think that about covers how to save some time and some money, and to simplify your grocery shopping experience, be sure to chime in below and let me know what your best tips to simplify the groceries.