April is here and spring is finally showing up. At least here in the midwest it is.
But April also means it's the beginning of the second quarter of the year.
Maybe you're on track with your yearly goals.
Or maybe the year has completely gotten away from you so far.
But either way, now is the perfect time to evaluate those goals and plans from the beginning of the year so we can have our strongest second quarter yet.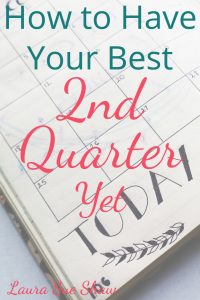 Go back to your original goals
Let's start by evaluating your original goals and asking yourself some important questions:
Is this still something I want?
Are the goals and timeline realistic?
Do I need to make some adjustments?
If so, what needs to change?
Then, make adjustments where needed
Write out where you want to be by the end of June
Now it's time to start breaking your yearly goal down. Start by writing out where you want to be by the end of June.  
I like to have 3 big-picture goals for the quarter that will help me get closer to my yearly goals. Try to be realistic in what you can accomplish in three months. It should be a stretch, but still attainable.
It's also a good idea to take into account any big events happening in the time frame as you decide exactly how big your quarterly goals should be.
Now, it's time to break your goals down further
Then move on to the monthly plan. For now, let's just focus on April. What progress can you make toward your quarterly goal in one month?
What are the action steps you need to take?
Then, break it down by week.
Each week, give yourself a few daily tasks.
Working backwards like this is the best way to come up with a plan that will drive you forward towards your goals.
Some tips for success
CONSISTENT action is what will move you forward. Consistency is SO important because each step builds on the next. Without consistency, it's hard to keep the momentum going. And I know this from experience. I have big ideas and plans, but I tend to struggle with consistently following through.
I'm trying to get better, though. In fact, my phrase for the year is "Choose to be Consistent."
Finally, make sure your action steps have high ROI. ROI means "Return on Investment." Your action steps should be the ones that actually get you closer to your goal, not just "busy work."
It's important to evaluate your action steps to see if they are giving you a high ROI or if it's something that needs to be removed from your to-do list.
I can easily fall into the trap of doing more planning than taking action. While planning is really important, there are tasks that give a better ROI that I need to make sure I get to as well.
To recap, when making your quarterly goals and plans it's a good idea to go back to your original goal and then break things down by quarter, month, week, and day. Then staying consistent and focusing on high ROI tasks will ensure that you have your best second quarter yet.