How is the year almost half over already?
Since I've been talking a  lot about goal setting lately I thought it would be fun to share a goal update on my personal goals for the year.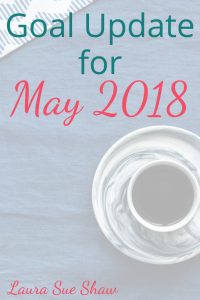 Goal 1: Maintain weight and grow healthier and stronger
✔I'm drinking more water
✔I'm taking my vitamins and supplements daily
✔Working on wearing my step counter daily (This step needs some work though, I have not been very consistent.)
My next step here is to work on healthier menu planning and prep now that we're getting settled into our new home.
I eat soo much healthier when I prep things in advance. Since the move our diet has included far more convenience foods than usual so I know we'll feel better once we start eating healthier again!
Goal 2: Growing my business
✔Launched a new coaching program
✔I'm releasing new content weekly
✔I'm sticking to my schedule and goals
My business goals have gone pretty well despite the move. I'm getting ready to launch a couple new things and working on getting back into my time blocking and batching routine that helps me get much more done.
Curious as to what's new? A goal setting workbook and coaching program!
Goal 3: Stay organized
✔Using time blocking and batching to reach my goals
✔Automating where I can to save time
✔ New planner system setup and using it daily
Up next for staying organized is to create a new routine and new systems for our home. Moving can throw things for a loop!
But I'm getting into a new laundry and cleaning routine and schedule. I'm looking forward to the new routine I'm creating as well to keep our days on track.
Those were the 3 main goals I had starting 2018. I knew it would be a year of some adjustments and changes, so that's why I wasn't super specific.
I am going to have more focused goals for the second half of the year, so I'm looking forward to sharing those with you next month.
How are your goals coming along??