You're plodding along after your goals, making slow and steady progress, when out of nowhere…
BAM.
A huge setback is in your way. Something unexpected and NOT in line with your perfectly created plan.
So what are you supposed to do? Give up?
No! Please don't do that! You CAN still reach your goal, it will just take some careful adjustment.
So let's talk about what to do when your goals aren't working so you can take the right steps to move forward.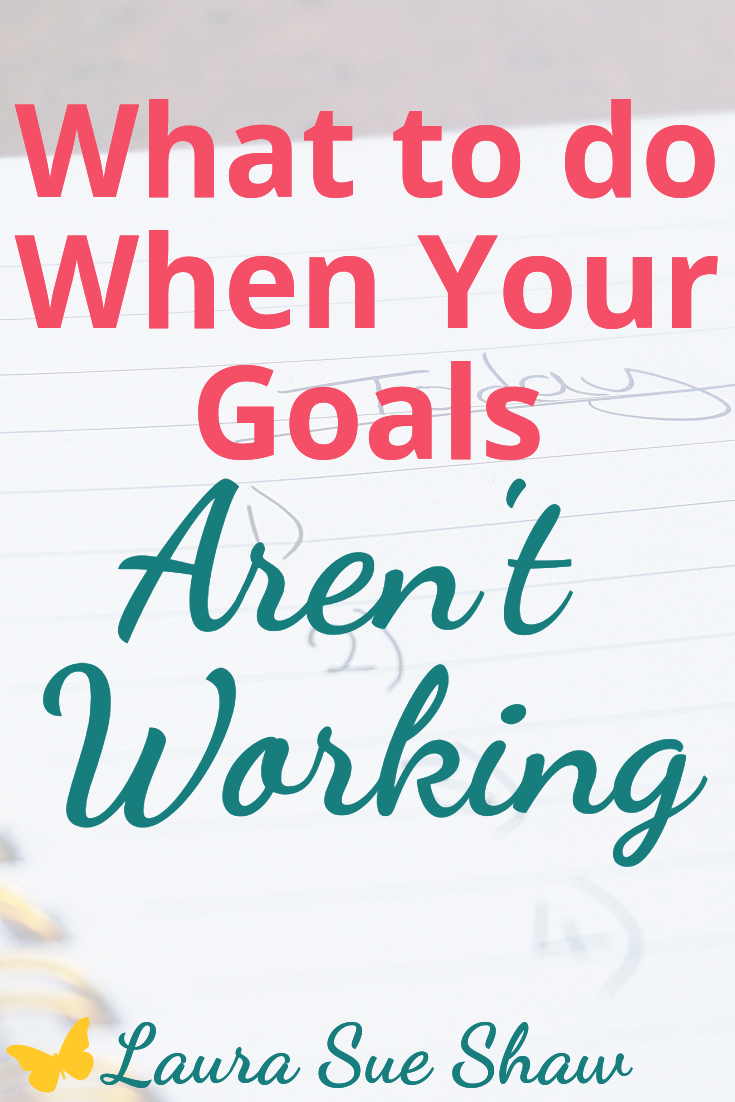 Reevaluate
First, go back to your original goals. Is this still something you want considering the new circumstances?
Take a hard look at your priorities and see if there are areas where you need to adjust. Are these goals something you need to continue right now or do you need to focus on something else for awhile?
If not, that's totally ok. Sometimes things change. That's just part of life.
So, if you need to table your goal or throw it out altogether, this is your permission to do so.
However, if your goal IS still something you want, then you can continue to step #2:
ReConnect with Your Why
Now let's go back to the reason you wanted to set your goal to begin with. Is it something that still lights you up? Or is it just something you feel you "should" do?
I love this quote:
"Set goals that make your heart sing. Then achieving them is an experience of uplifting joy." – Amy Leigh Mercree
And this one too:
"Dreams and goals must come from the heart, not the ego." – Isa Zapata
So go back to the reason you set the goal to begin with and dig deep about whether or not it's something you really need to pursue.
Do NOT Feel Guilty
Everyone runs into roadblocks, you are not alone! Don't let guilt take over and keep you from what needs taken care of.
Your goals are just that: YOUR goals. If it's not going as planned but still something you want to pursue, there is no shame in revamping your plans, adjusting your timeline, or doing whatever you need to make sure it works for you and your unique situation.
Take a Step Back
Sometimes you need a refreshing step back to regain some perspective before you keep going. That mental break can do wonders.
So maybe taking a couple weeks off – or even a couple months – from your goal will be just what you need to start fresh with a new plan and the passion you had when you first started.
Do Some Research
Sometimes while taking a step back it's also a good idea to do some research. New ideas and a fresh perspective can help you restart your plan.
Look at others who have reached the same goal. What can you learn from them? Are there any online groups you can join? Community can be a big source of motivation.
Or maybe there are some books that would help look online or at your library to see what's available to give you the tools you need to move forward.
Adjust the timeline
Next, take a look at your original timeline for your goal. Is it still realistic? Or does it seem impossible now?
Maybe it's going to take a lot longer than you originally thought. Or perhaps you need a tighter deadline to create a sense of urgency.
Either way, it's totally ok to change your timeline if you need to, just make sure to create a new deadline.
Adjust the action steps
After you've evaluated your timeline, it's time to take a look at your action steps. Is there any that you now need to add? Are there any that you don't need anymore?
Then decide what the most important tasks would be. These could be daily, weekly, and monthly. But keep it simple and stick to just a few tasks.
Create Your Detour Plan
Since the first path didn't quite work, what can you do differently? Come up with a new plan to reach those goals. Add to your calendar the action steps that you can complete daily, weekly, and monthly.
Give yourself some grace
Finally, be sure to give yourself some grace. Life happens. Things don't go as planned, even when we have the best of intentions.
So know it's OK.
A setback is just that: a setback. It's not the end of the world.
So be kind to yourself as you reevaluate your goals.
That wraps up my game plan for what to do when your goals aren't working.
You CAN still reach your goals when setbacks happen. Just follow these simple steps to get back on track.