I love reading, but books can really add up if you're not careful! Over the years I've found some great ways to save money on books, both paperback and ebooks. I've been able to keep up my reading habit without breaking the bank. 🙂 Here are my ideas: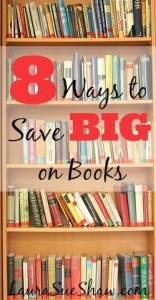 1. Go to the Library
As a homeschool graduate, the library holds a special place in my heart. I have many fond memories of mornings spent there wandering the isles finding new and interesting things to read. I was known to check out a business book alongside my stack of Nancy Drew Mysteries, next to several school books.
2. Free / Cheap eBooks
You can find lists daily in places such as BookBub, Money Saving Mom, and eReader Girl.
3. Check out Library Sales
Over the years we've found lots of great books at library sales for less than $1. Sometimes the sales can be hit or miss, but they're usually worth a try!
4. Used Book Stores
The used book store we have here in town doesn't always have a great selection, but where my aunt lives there is an entire used book warehouse. It's huge and full of amazing books 🙂
5. Swap with Friends
Host a book swap with friends where everyone brings books they are willing to part with while getting new reading material for free!
6. Swap Websites
Though I haven't used one of these personally, I've heard great things about Paperback Swap.
7. Bundle Sales
These are a great way to get a whole bunch of e-books at an incredibly reasonable rate. There are weekly bundles such as Bundle of the Week and then annual BIG bundles such as the Ultimate Homemaking Bundle and the Ultimate Healthy Living Bundle.
8. Borrow from friends and family
As long as you return the book and the favor, this arrangement can work out well for everyone! My mom and I like to swap good reads we come across. You can even do this with your Kindle library (find out how here.)
What are your favorite ways to save on books?
(*This post contains affiliate links. You can read my disclosure policy here.)