Have you ever hopped on your phone or laptop for just a minute to look up something and get sucked into social media or email? Then before you know if an hour has gone by with nothing to show for it.
But that seems to be how our society is designed these days – to keep us constantly distracted or entertained. While that can be good at times, we must not allow it to consume our lives and take time away from our top priorities.
So lately I've been trying to eliminate some distractions and mental clutter in my own life.
So what distractions are keeping you from focusing on your top priorities?
I admit I can be a bit too attached to my phone – particularly the Facebook app because of all the groups I'm in. But I'm taking steps to try and eliminate digital distractions from my life (to a point) so I can focus on what really matters to me.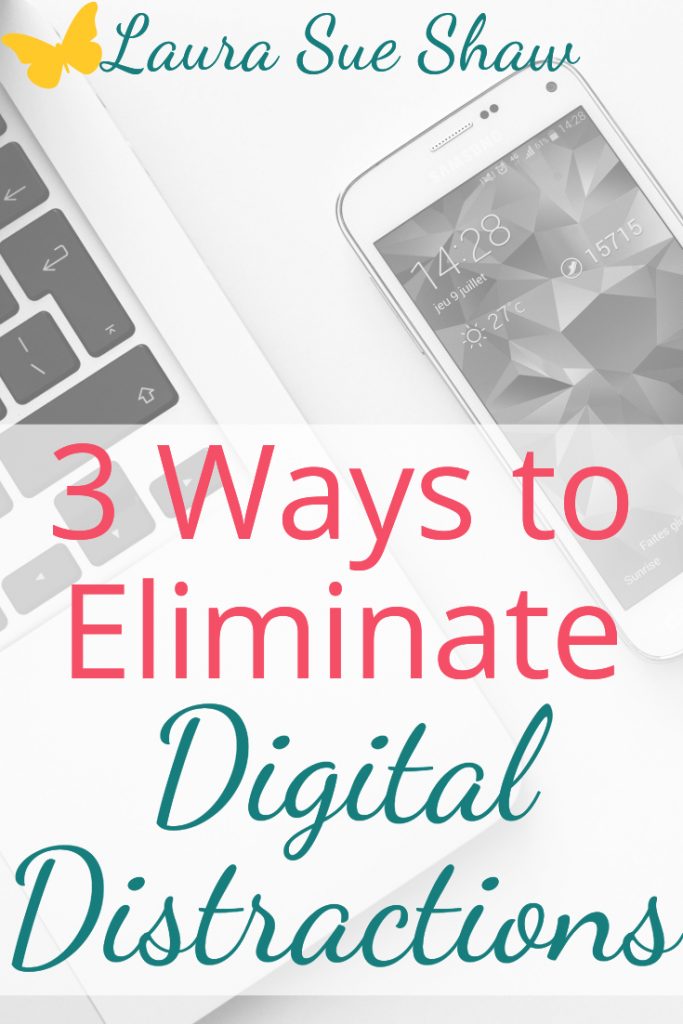 Step 1: Simplify or Eliminate Newsfeed
Scroll, scroll, scroll….
It's way too easy to get sucked into endless scrolling!
So I went through my newsfeed and I've been unfollowing groups, pages, and even some people. Unfollowing is great because you can still be friends, part of a group, or a fan of the page – they just won't show up on your newsfeed.
I'm trying to limit my newsfeed to the things I find most valuable and important in order to limit the time I'm spending in the app scrolling through updates.
Step 2: Stop Push Notifications
Another thing I did was to stop email push notifications. Checking email once or twice a day is enough for me to make sure I don't miss something important.
I also updated some of my apps – like Pinterest and Instagram – to stop sending me any notifications. Now I just see them when I open the app and they don't go directly through to my home screen the second something happens. This helped SO much because it eliminates the temptation to open the app every time a notification pops up.
Step 3: Simplify Your Email Inbox
Finally, I also updated my unroll.me settings to roll up more emails. If you haven't tried this service, I highly recommend it! It has really simplified email for me.
You simply choose which subscriptions you'd liked "rolled up" and instead of receiving those emails individually, they will all be included in a daily digest.
It's also important to unsubscribe from emails periodically too! A tip that helps me is to remember that I can always resubscribe if I end up missing those emails.
These are just the steps I've taken so far to eliminate digital distractions. To recap, this is what I did:
Unfollow Facebook groups, pages, and people

Stop push notifications to phone

Use unroll.me to simplify email
I'm still working on new ways to eliminate some distractions so I can focus on my priorities, but these three things have been the most helpful so far.
I'd love to know how you keep digital distractions to a minimum!
[activecampaign form=34]