I recently talked about time blocking and how it helps me manage my time well and focus on my priorities. But today I'm taking it a step further and sharing about creating my ideal schedule.
Now the key term here is "ideal." It's far from exact. In fact, if I gave it to my 11-month-old I'm pretty sure he would literally tear it in half!
But it gives me a starting point, and that's really important for me as a busy work at home mama who's trying to live intentionally and spend my time on what matters most.
My ideal schedule helps me to remember to focus on work during naptime so I can focus more on quality time with my sweet boy while he's awake and family time in the evenings after my husband gets home.
So here are my top 3 tips for creating an ideal schedule.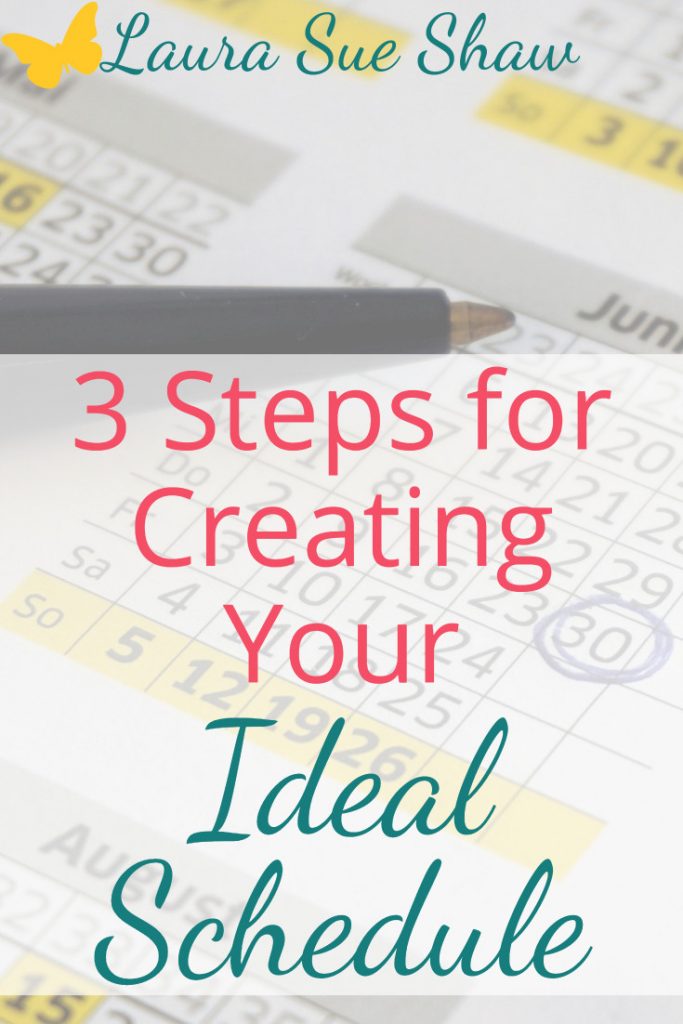 Start with the non-negotiable.
Beginning with your top priorities will ensure you have time for them.
A great way to illustrate this is the story of filling your time jar with big rocks, little rocks, and sand. The big rocks are your top priorities, small rocks are your next priorities, and the sand is everything else. If you put those items in a jar in any other order, you're not going to be able to fit your highest priorities (the big rocks).
To do this, I make sure I complete the most important tasks on my to-do list first. Though it's tempting to do the easiest or quickest things first; starting with the most important, even if it's hard, will make you more productive in the long run. Furthermore, if your day gets off track it's already been a success because you got the most important things done!
Leave margin.
Next, be sure to give yourself room to breathe. Don't fill up every minute – make sure there are at least a couple of hours each day that you don't have something scheduled to ensure that you have time to rest and account for anything that takes longer than planned. Because we all experience things that take far longer than we planned!
Margin is also important to make sure you're not burning the candle at both ends. Rest is so important – taking care of yourself first will allow you to better care for those around you.
Finally, be flexible.
I think it's important to remain flexible enough that it won't totally throw you off when something unexpected comes up. This is much easier to do after you've implemented the first two tips – beginning with your top priorities and leaving plenty of margin.
Being flexible doesn't mean not actually following your schedule – it's simply making it so it's easy enough to adjust when you absolutely need to.
So there you have my top 3 tips for creating your own ideal schedule – begin with your top priorities, leave plenty of margin, and be flexible.
How do you go about creating your daily schedule?