This yummy soup can be as spicy or mild as you prefer. We like to keep it nice and mild. Family members who like more spice get to add extra chili powder to their bowl only 😉 This soup is so quick and easy to fix and it makes a fantastic dinner!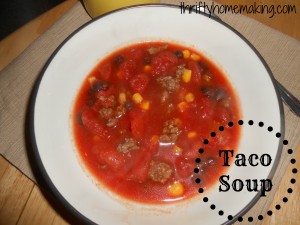 Ingredients:
46oz V8 or other tomato/vegetable juice
1 15 oz can kidney beans (drained & rinsed)
1 15 oz can black beans (drained & rinsed)
1 15 oz can whole kernal corn
1 lb ground beef, cooked and drained
1 29 oz can diced tomatoes
2 Packets of Taco Seasoning (Or use your own blend, like I did.)
Directions: Cook beef and drain. In a large pot combine beef, vegetable juice, tomatoes, kidney beans, black beans, corn, and seasoning. Heat through to boiling and serve.