It's time to stop letting the clutter control your life.
Your life feels crowded and overwhelming. You need space to breathe but don't know where to start to make that happen. So nothing changes.
Bills are paid late because they got buried in the paper piles. Again.
You're up late and losing sleep because you forgot that project was due tomorrow.
You can't find what you need amidst the chaos in your home.
And you're so frustrated with the state of your home but have NO IDEA where to even begin to fix it.
I've been there.
We had too much stuff. I didn't feel organized. And I was stressed.
But it was awhile before I did anything about it.
It took a season of tremendous loss for me to totally re-evaluate my life.
But I don't want you to wait until something drastic happens to start living the life you want.
That's why I created the Complete DeCluttering eCourse and Toolkit. It's a step-by-step plan to simplify your home, mind, and life.
In this ecourse I'll walk you through the steps I've taken to reduce the clutter in my life so I can focus on what matters to me.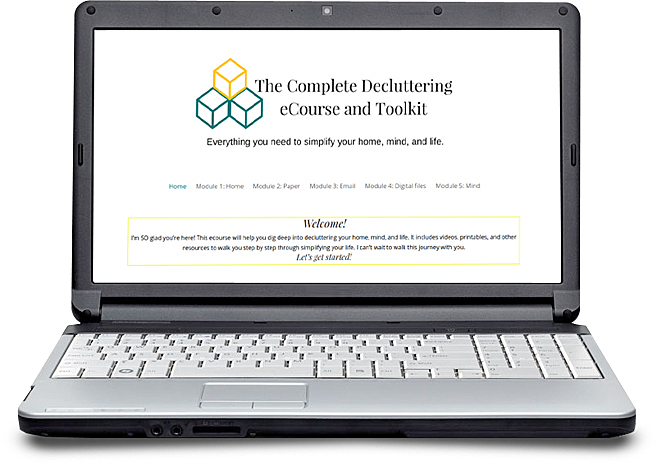 Let's get rid of the clutter, the paper piles, and endless to-do's for a life that's simplified and focused on your top priorities.
The course includes video lessons and printables on…
DeClutter Your Digital Files
Plus a Facebook Community
Plus…
 – A bonus ebook full of decluttering tips that you can reference for extra ideas so that you can always get inspiration to declutter.
– Video lessons with quick, actionable strategies so that you can see results fast.
– A brand-new workbook called Power over Paperwork that will take the guesswork out of organizing paper and give you a clear plan of action so your desk will finally be free of the paper piles.
– Worksheets and checklists to help you apply the trainings to your own life so that you see a lasting impact and finally start living with less physical, mental, and even digital clutter.
– A getting started guide that gives you an exact step by step plan for consuming all of the ecourse materials so that you're not left wondering what to do next.
– And much, much more!
Enroll in the Complete DeCluttering eCourse and Toolkit before the price increases!
30 Day Money-Back Guarantee
If you start implementing and find it doesn't work for you I offer a 30 day money back guarantee – So there's no risk for you!
Answers to your Questions:
How long will I have access to the course?
Forever! Your access will not expire.
How long until I see results?
This will vary for everyone but if you start implementing right away you can start seeing a difference in as little as a day.
Will I get direct feedback?
Yes! You can get direct feedback and encouragement in the private Facebook group that's only for members of the course.
What if I find it's not for me?
If you start implementing and find it doesn't work for you I offer a 30 day money back guarantee – So there's no risk for you!
You can't afford to miss the moments that matter.
Don't miss the opportunity to get focused on your priorities and live your life in a simpler, more intentional way.
This special launch price won't last for long.
Let's start your decluttered, simplified life NOW.