Wondering how to get your home life under control?
Creating simple systems can do wonders for easing the stress of home management. A system doesn't have to be a complicated process with tons of steps. I think a system can be as simple as having a schedule or routine that you try to stick to that makes thing easier to remember and helps keep your home in order.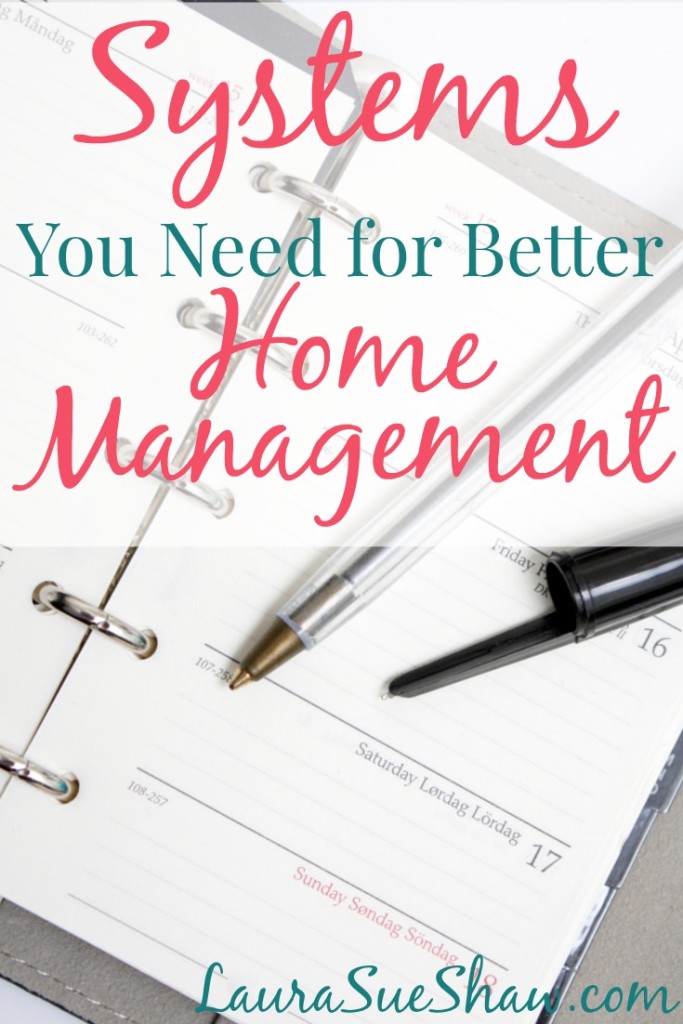 There are a few systems that would be a great place to start – meal planning, cleaning schedule, paperwork, and finances. Here is how to get started creating these systems and some tools to help.
Cleaning Schedule
Keeping the house clean seems like a never-ending cycle, doesn't it? To make it a little less painful, I've found it helpful to make a cleaning schedule. Mine is super simple. I know I do most of my cleaning on the weekends and have a weekly cleaning list. I also know what chores need done during the rest of the week.
Here are some posts to help you get started creating your own cleaning schedule:
Meal Planning
Even just simple meal planning prevents us from eating out very often. Most weeks I don't have a plan set in stone. I have a list of what meals I'll fix in the next week based on what we already have and then what I pick up at the store. I might have an idea of what day I'll make what but unless something specific is going on, I normally play it by ear depending on what we're in the mood for from the list of options.
Here are some helpful posts to get started in menu planning:
Finances
A budget can actually relieve so much stress when it comes to finances! I absolutely love Mint.com. It's free and easy to set up. Plus, there's an app that I have on my phone that allows me to quickly look up where we're at with our budgets.
Here are some of my favorite financial posts:
Paperwork
Oh, the piles of paperwork. It is really my biggest nemesis in keeping my home in order. I have not perfected a system for us yet, but it is a work in progress.
Here are some posts to help get your paperwork in order:
Even the simplest of systems can help so much in making your home more manageable. I think the areas that are key are the cleaning, meal planning, finances, and paperwork. With just a few home management systems in place, things can run a lot smoother and make things less stressful and more enjoyable for everyone.
What are your systems for managing your home?